Danzer
forgot that I had a sodahead account
likes & interests
About Me
howdy howdy folks! my name is donald dane enoch or otherwise dane. i'm a die hard football fan of the raiders. i love making people laugh and enjoy spending time with my friends. if you have any other questions about me, feel free to email me at, daneenoch@hotmail.com
I'd like to meet
great grandfather, great grandmother, payton manning, randy moss, bo jackson, barry sanders, roy williams, dre bly, marvin harrison, jerry porter, jamarcus russell, fred taylor, mostly all nfl teams... haha
Activities
Barrow Whalers Football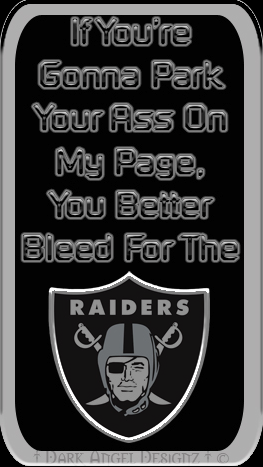 Interests
computers: macs, pcs., music, national football league, college football, woodworking, computer games, friends, joking around, making videos for stupid short films productions, internet, call of duty franchise, photography, stem program, paintballing, girls, going to the movie theaters, collecting movies, etc.
Favorite Music
blue october, bob sinclair, dropping daylight, finger eleven, goo goo dolls, dj alice, isreal kamakawiwo'ole, josh pyke, last goodnight, lifehouse, linkin park, matt kearney, matchbox twenty, nickelback, silverstein, sweet, u2, 30 seconds to mars, kernkraft 400, rob thomas, sabrepulse, basshunter, daft punk, etc.
Favorite TV Shows
robot chicken, south park, futurama, the marvelous miss adventures of flapjack, metalocalypse, the venture bros., american dad, aqua teen hunger force, family guy, harvey birdman, home movies, lucy - daughter of the devil, moral orel, shin chan, stroker &; hoop, house m.d., that 70s show, friends, etc.
Favorite Movies
harold and kumar series, lara croft: tomb raider series, national lampoon's series, mortal kombat series, star wars series, back to the future series, indiana jones series, resident evil series, starship troopers series, rambo trilogy, idiocracy, the love guru, zoolander, judge dredd, fight club, dogma, space balls, etc.
Favorite Books
soldier x, neon genesis evangelion, harry potter series, meg: a novel of deep terror, the trench, meg: primal waters, meg: hell's aquarium, domain, resurrection, goliath, the loch, the shell game, the westing game, mein kampf, the dictionary, holes, halo - ghosts of onyx - the flood - first strike, etc.
Favorite Quotes
"fuck you, donuts are awesome!"
- Kumar
><A href="http:/www.profileplaylist.net" target="_blank" rel="nofollow">
Favorite Heroes
my father, my mother, denver, disney, neil patrick harris, robert downey jr., heath ledger, bernie mac, matt stone, trey parker, payton manning, matthias steiner, luis figo, miroslav klose, zinedine zidane, michael ballack, oliver kahn, harrison ford, bruce willis, guy-manuel de homen-christo, thomas bangalter, etc.
info
Danzer

Male

Barrow, AK, US

2008/08/24 11:20:48

2010/01/25 16:46:58

23

Single

Straight

Gemini

Friendship

High School (Current)

No

Yes

Agnostic

Someday

Liberal

White/Caucasian

Average

6 feet 4 inches
photos & videos