likes & interests
About Me
I'm a grandma raising three of my grandkids, since 2005. I went back to school in 2007 and am finishing up my bachelors. In addition to the career my degree is supposed to supply, I am really into photography, and hope to begin a freelance photography career this year, starting with my friend's wedding. I still dream.
My Political Views
I am a left moderate social authoritarian
Left: 5.63, Authoritarian: 2.2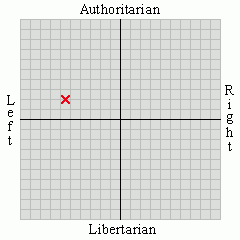 Political Spectrum Quiz
I'd like to meet
The Wiggles, Melissa and Tammy, Maya Angelou, the guy who plays Grissom on CSI (I love him!) Janeane Garofalo, Kevin Smith,
Interests
When I have time (rare) I love to play guitar. I love movies, books and music. I really love taking pictures - of people I love, as well as art.
Favorite Music
Favorite TV Shows
CSI, Home improvement, Thw Wiggles and most disney, Coronation Street, Ghost Whisperer
Favorite Movies
Love Actually, Waking Ned divine, The Matchmaker, all Kevin Smith's movies
Favorite Books
Harry Potter series, biographies, Maya Angelou's books, The Color Purple, Fried Green Tomatoes, Louisa May Alcott's books, all of Frank McCourt's books
Favorite Quotes
Grissom: "Sex without love is...pointless! It leaves you sad."
Sara: "Well, I'm pretty sure i don't make you sad."
Grissom: "No. You make me happy!"
CSI - "Ending Happy"

"There's no crying in baseball!" - Tom Hanks in A League of Their Own
Favorite Heroes
Maya Angelou, My sister, Florence, Melissa Etheridge
Areas of Interest
Cookielane's activity, per category
info
Cookielane

Female

Ann Arbor, MI, US

2007/10/16 23:19:01

7 hours ago

54

Single

Straight

Aquarius

Discovering Opinions

College Graduate

Full-Time

Healthcare

$25k - $50k

No

No

Christian

Proud Parent

Moderate

Native American

Love Handles

5 feet 6 inches
photos & videos