likes & interests
About Me
My Political Views
I am a left social libertarian
Left: 3.63, Libertarian: 5.92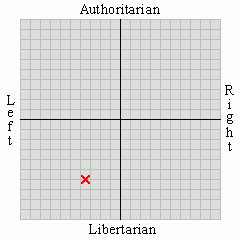 Political Spectrum Quiz
My Foreign Policy Views
Score: -7.1

Political Spectrum Quiz
My Culture War Stance
Score: -6.8

Political Spectrum Quiz
Fun Quote:
Libertarians are the right wing versions of Anarchists, they want no awful government telling their citizens its illegal to possess doomsday devices.
My question is "Where's my Doomsday Device?"
I'd like to meet
Marilyn Manson, J.K Rowling, Stephen King, and a lot more.
Activities
Work, sleep, smoking, and video games (it is the life after all LOL)
Interests
Books, Video Games (but mostly have been addicted to Eve Online), Movies, and Music.
Favorite Music
Anything that isn't country or rap. With exception to something that is funny or actually has a heart.
Favorite TV Shows
Family Guy, American Dad, Futurama, Invader Zim, Dexter, True Blood, Pen and Teller's Bullshit, My Life on The D-List, Top Chef, Project Runway, Raul Paul's Drag Race, Lie to Me, and lots more (Got to love DVR)
Favorite Movies
To name a few: Anatomy of Hell, Ichi the Killer, Suicide Club, Grandma's Boy, Lets Go to Prison, Super Troopers, Juno, Stranger Then Fiction, The Desent, etc.
Favorite Books
To many to list and I won't do it now.
Favorite Quotes
Favorite Heroes
Areas of Interest
brutusin~ Proud Apetheist's activity, per category
info
brutusin~ Proud Apetheist

Male

United States

2008/11/26 16:51:10

1 day ago

30

Single

Capricorn

Expressing Myself

College Graduate

Atheist

Someday

Libertarian

White/Caucasian

Love Handles

5 feet 10 inches
photos & videos