Forward! or at least keep it in Drive
likes & interests
About Me
Live your life according to your religion and/or ethics, but don't expect anyone else to live the same as you and do not try to foster them on anyone else. I see no problem in satire, including religious satire. Cheap-labor conservatives don't like prosperity.
My Political Views
I am a left social libertarian
Left: 6.42, Libertarian: 4.02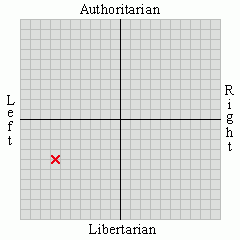 Political Spectrum Quiz
I'd like to meet
Anyone that I find interesting.
Interests
Favorite Music
R&B;, Jazz, most other music.
Favorite Quotes
The more I see the less I know for sure.
Life is what happens while you are busy making other plans.
Reality leaves a lot to the imagination.
Everybody's talking about peace, but nobody does anything
about it in a peaceful way.
If everyone demanded peace instead of another television set,
then there'd be peace.
A dream you dream alone is only a dream. A dream you dream
together is reality.
- John Lennon
"I disapprove of what you say, but I will defend to the death your right to say it"
- Evelyn Beatrice Hall
"There's class warfare, all right, but it's my class, the rich class, that's making war, and we're winning."
- Warren Buffett
Favorite Heroes
איינשטיין & אשר פרס and all the scientists who went against the superstitions of their day to give us a better understanding of our universe.
Areas of Interest
Manwë's activity, per category
info
Manwë

NV, US

2008/11/17 01:39:54

2013/03/23 04:18:57

63

Married

Straight

Aries

Expressing Myself

College Graduate

Retired

Other

$100k+

No

Yes

Agnostic

Proud Parent

Other

White/Caucasian

Average

6 feet 1 inches
photos & videos