What is bubbling in your head?
likes & interests
About Me
I am from the planet Jupiter and I ride to school on a kangaroo.
Sooo... about me... I love the Beatles. I bet you couldn't tell.
People tell me I'm pretty old-fashioned for my age; I love old music and movies like Buddy Holly, Audrey Hepburn, etc. I also love almost anything science or science-fiction/fantasy (I'm also a huge dork) and I love reading and playing piano. My inspirations are Paul McCartney, Elton John, and Billy Joel. I'm usually fairly quiet, but am pretty outspoken among close friends.
goo goo g'joob
│▒│ /▒/
│▒│/▒/
│▒ /▒/─┬─┐
 ▒│▒|▒│▒│
┌┴─┴─┐-┘─┘
│▒┌──┘▒▒▒│
└┐▒▒▒▒▒▒┌┘
 └┐▒▒▒▒┌┘
Increase the Peace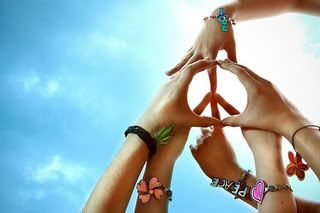 Create a playlist at MixPod.com
I'd like to meet
Paul and Ringo, J.K. Rowling, Damian McGinty, Julie Andrews, the Mythbusters, Michael J. Fox
Activities
track and field, piano, gymnastics, dance
Favorite Music
The Beatles, Celtic Thunder, Queen, Fleetwood Mac, Wings, Elton John, The Rolling Stones, Aerosmith, Pink Floyd, The Animals, The Kinks, The Beach Boys, Bob Dylan, The Doors, Chuck Berry, Elvis Presley, James Brown, Jimi Hendrix, Led Zeppelin, The Mamas & the Papas
Favorite TV Shows
Doctor Who, Family Ties, Fringe, Avatar: The Last Airbender, Merlin, Mythbusters, Naruto
Favorite Movies
Back to the Future, Beatles movies, The Lord of the Rings, Disney, Spirited Away, Breakfast at Tiffany's, The Sound of Music, The Nightmare Before Christmas, Ferris Bueller's Day Off, I Am Legend
Favorite Books
Harry Potter, Lord of the Rings/J.R.R. Tolkien novels, His Dark Materials, The Bartimaeaus Trilogy, Peeps, The Last Days, The Great Gatsby, The Chronicles of Narnia, The Screwtape Letters, Slaughterhouse-five
Favorite Quotes
"The past can hurt... the way I see it, you can either run from it, or learn from it." -The Lion King;
"'Of course it is happening inside your head, Harry, but why on earth should that mean that it is not real?'" -J.K. Rowling, Harry Potter and the Deathly Hallows;
"Arithmetic is being able to count to twenty without having to take off your shoes." -Mickey Mouse;
"Life moves pretty fast. You don't stop and look around once in a while, you could miss it." -Ferris Bueller's Day Off;
"Most bands were about sex and drugs. But the Beatles... they just wanted to hold your hand." -Nick & Norah's Infinite Playlist
Favorite Heroes
FLASH
Areas of Interest
Beatlemaniac's activity, per category
info
Beatlemaniac

Female

MD, US

2009/07/15 23:54:04

2011/06/18 05:28:25

April 17

Single

Straight

Aries

Expressing Myself

High School (Current)

No

No

Christian

Someday

Conservative

White/Caucasian

Slim/Slender

5 feet 5 inches
photos & videos