What is bubbling in your head?
likes & interests
About Me

No matter what your religion, age, or gender, these wonderful songs speak to the lives of all of us through common themes of struggle to eventual triumphs. The perfect gift for a friend or a loved one who's going through a difficult time or who just loves great music.
I'd like to meet
World travellers to share tips. :)
Activities
If we believe there is only one GOD...means we are ALL brothers & sisters. We better focus on how to save our dying planet...we got no other planet to escape !
Interests
Travelling, scuba diving, music

Favorite Music
Country, Jazz, Oldies, Classical, Blues


Favorite Movies
Favorite Books
Favorite Quotes
Life is short...Be always away from idiot folks ! * Ergun Kurtbelen *

Democracy, created to pluck the ignorant people of the better ! *Someone*
Favorite Heroes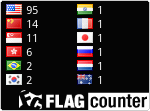 Areas of Interest
Babacool's activity, per category
info
Babacool

Male

Switzerland

2011/10/24 08:10:45

18 hours ago

August 25

Married

Straight

Virgo

Expressing Myself

College Graduate

Not-Employed

Accounting/Finance

Yes

Yes

White/Caucasian

Average
photos & videos